Summer is an inspiring season...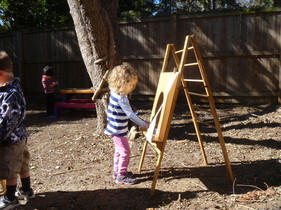 Summer Programs run on a
week by week
basis and range from
half day (20
hours per week) to
full day (40 hours).
Half day camps run from 9 am to 1pm or 1 to 5pm
Half day camp fee is $120.00/week per child
Full day camp fee is $ 220.00/week per child
Registration fee is $100.00 per child/family

Camp Chikito is for children ages 3-5
Camp Meninos is for children ages 6-8
Camp Jeune is for children ages 8-10 **

(** Age groups are not "set-in-stone" and older siblings of campers may be eligible to participate)
Camp hours are from 9:00 am to 5:00 pm.
Pre and after-camp
care is available by previous request.
If previously arranged, children can arrive
as early as 7:30 am
and be picked
as late as 6:30 pm
.
A daily fee of $5.00 applies for every 30 minutes of extra care per child/family.
Children are welcome to bring their own
snack/lunch
or it can be purchased daily at camp.
Snack cost is $2.50 per day and Lunch is $4.00 per day.
All our programs are customized to be developmentally age appropriate, and contain four major components:
- Learning practical and useful dialogues in Spanish, French and Portuguese as we "travel" around the world.
- Learning crafts from around the world, their story, history, and elaboration.
- Developing knowledge and skills of intercultural value to enhance children's future citizenship in a global society and job market.
- Fostering the hobbies and interests of each child by providing the means and opportunity to practice and share their skills with others.

Our camps are designed to be playful, full of movement and completely stress-free. Children are encouraged to develop their creativity and problem solving skills through productive activities that promote intellectual growth and social competence, while also making space for summer relaxation and enjoyment. After all, it's vacations' time!, and children also need to unwind and day-dream of all they can be.
Below you can view and print the calendar for Summer 2013 with a guide to the activities. Please contact us for reservations and registration availability
here
or by calling 919-267-8557. Feliz Verano! Joyeux Eté! Verão Feliz!
---